What goes on your mind when you invest in designer jewelry? Most people will want to give this jewelry to the next generation. However, if the storage space of your jewelry is not safe enough you can lose them quite easily. Not to worry. There are a number of luxury safes that can save your jewelry from the thieves. Check out the following jewelry safe for home which is perfect for your luxury jewelry.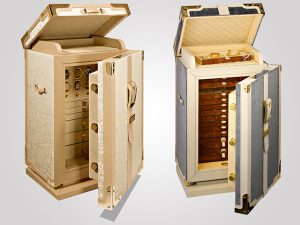 Doettling Jewelry Box
This jewelry box brings the game to a whole new level. This is the perfect safe for storage and safekeeping of your jewelry. They are the perfect amalgamation of cutting edge technology and protective designs. The box contains a huge amount of jewelry shelves, straps and pouches to maintain the quality of your valuables. You can integrate the jewelry box in almost any type of doettling safes. You can change the features and colors of the safe as necessary. The doettling jewelry safe for home is fitted with a tracking device. If the jewelry box is stolen, the device can help you locate the box anywhere around the world.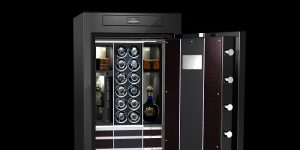 Buben & Zorweg Collector Safe
This is one of the sturdiest looking safes which can undoubtedly keep your jewelry safe. Don't be fooled by the hard looks of the jewelry box. The inside of the box is so plush that you can rest assured that your precious jewelry box will not endure a single scratch from the metallic structure of the box. Swiss craftsmanship is famous in the world, thanks to the watches. This jewelry safe for home of Buben and Zorweg has proved that Swiss craftsmanship is equally majestic. There are 16 readymade watch clasps to keep your precious watches safe and sound.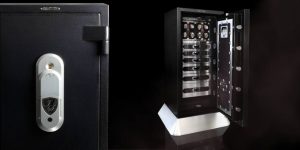 Brown Safe Chronos
This is for the lovely ladies who like to customize everything. You can decorate the interior of the safe according to your style and taste. The white metallic outside gives this safe a vogue look. This is the best addition to your bedroom, your walk-in closet or your dressing room. The fingerprint activated biometric ensures that no other person except you can reach your precious belongings. 8 dedicated watch slots, hand slit accents and 12 rolling vertical safes are what makes this safe the best jewelry safe for home.
The jewelry and the valuables in which you have invested a ton of money is the most important thing that you need to save. These jewelry safes can not only protect your valuables from the burglars but also keep them safe from unseen natural calamities such as flood and fire. The high-end safes are moveable, so you can take them with you if you wherever you are going. Still, it is advisable to take professional help to buy the best jewelry safe for home. The professionals can help you to understand the differences between different types of safes. They can also direct you to the right kind of safe which is appropriate for your need.